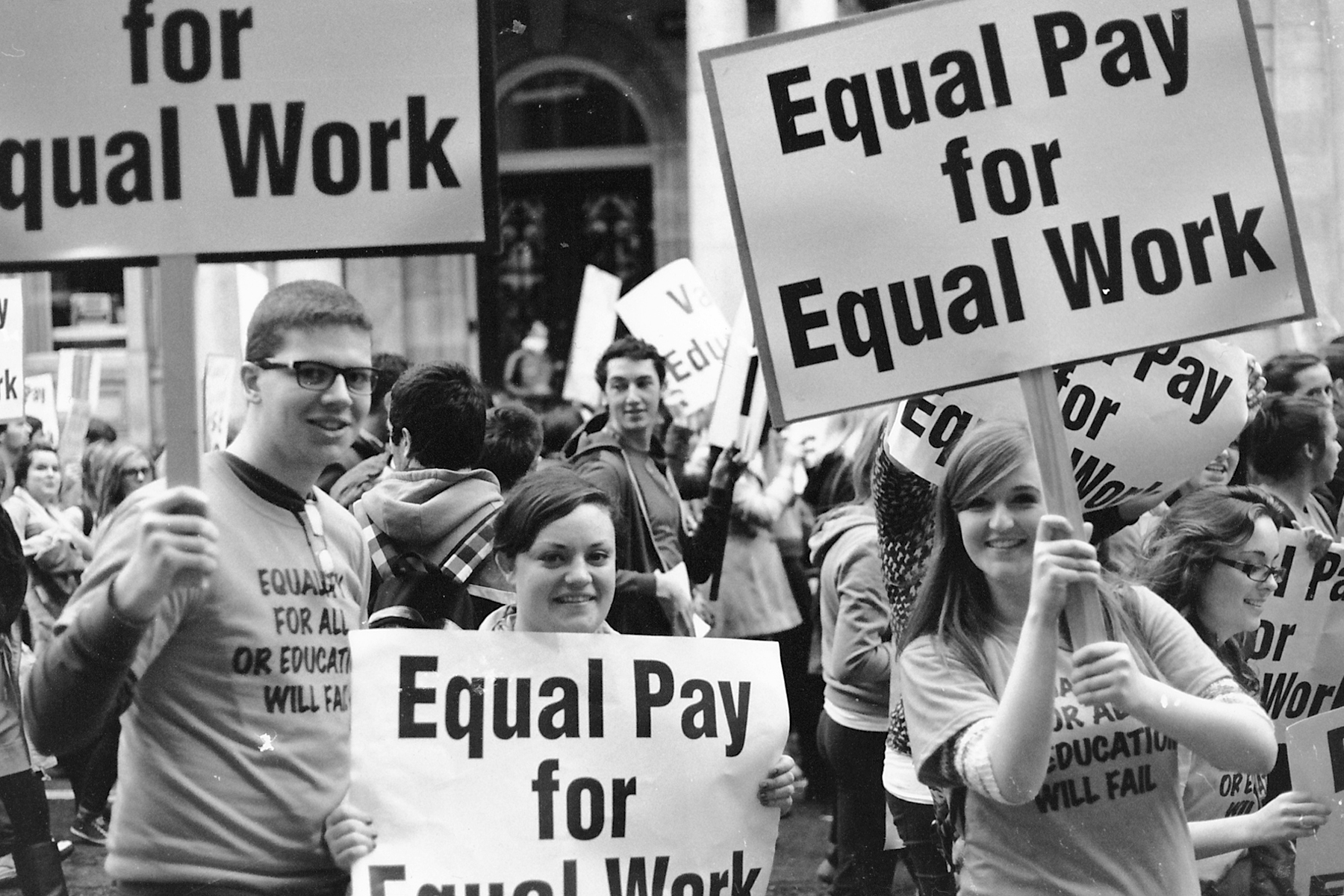 We kicked off our first Spitfire community discussion earlier this month! There won't be a Spitfire in October because we are busy organizing our fabulous annual Ignite the Nite gala! It's next Saturday, October 1 at the Multicultural Arts Center in Cambridge. Come and enjoy music, dancing, drinks, food, our silent auction, and supporting women and girls in Boston. We hope to see you there!
The MA Equal Pay Law
At the September Spitfire, we covered the Equal Pay bill that was signed into law this August. It makes Massachusetts one of only 6 U.S. states with strong equal pay laws and was on the front page of the New York Times!
The Spitfire featured three incredible guest speakers who each worked hard to get the bill passed: Katie Donovan, founder of Equal Pay Negotiations and a founding member of the MA Equal Pay Coalition; Jill Ashton, Director of Massachusetts Commission on the Status of Women; and Dave Rini Esq., Prison Rape Elimination Act Project Coordinator at the Boston Area Rape Crisis Center and former VP of Legislation for Mass NOW.
They gave an overview of the law, background on what it took to get it passed, and a look ahead to the future.
Three big points of the law*
It states that employees who are doing comparable work have to be paid comparable compensation

It incentivizes employers to conduct an internal audit of compensation to make sure they comply with the law- they will receive some level of protection against lawsuits if they can prove they are trying to fix any problems they find

It aims to end secrecy about pay- employers can't ask interviewees what they made at a prior job and they can't punish employees for talking about compensation with their coworkers
A few more highlights*
"Comparable work" is defined as requiring similar skill, effort, and responsibility; it isn't based on job title or description but on the work that people are actually doing

Employers can't reduce someone else's pay to comply

There is no exemption for companies based on size

Despite the fact that the pay gap for women of color is even wider than for white women, the bill doesn't explicitly mention race; it does say that a special coalition needs to analyze pay inequity based on race and other protected classes, and lawyers can still use this law to better protect women of color

It goes into effect in July 2018
Background
Equal pay has been a legislative issue in Massachusetts for nearly two decades. For comparison, people have been trying to pass an equal pay bill at the federal level for over 50 years. The MA bill was supported by a coalition of around 40 organizations. Our speakers believe the bill passed so quickly because (1) a lot of people have worked hard to make equal pay an important and relatively noncontroversial issue, and (2) the bill afforded some protection to companies that can show they are actually trying to improve their pay practices.
Looking Forward
We will have to wait until July 2018 to really see the impacts of the equal pay law. In the meantime, our speakers believe that we need to spread the word. They hope that by the time it goes into effect, people will know about the law and what it can mean for them.
We can also use this law to help address similar issues in the future, like family leave, disability, and reproductive healthcare. Looking to the future for equal pay, our speakers think we need to get employers to include pay ranges in job descriptions, address recruiting practices around pay, and focus on closing the wider pay gaps that exist for women of color.

*We're not lawyers. This post represents our understanding of the bill and what it means in general terms; it is not legal or business advice and we can't guarantee the accuracy or completeness of this content. We recommend you consult a lawyer or other appropriate professional if you want legal or business advice.
Do you like this post?