Last week, 40 people came to discuss white privilege and ways to leverage it for social justice at GLOW's January Spitfire. The conversation touched on many aspects of privilege and centered on allyship.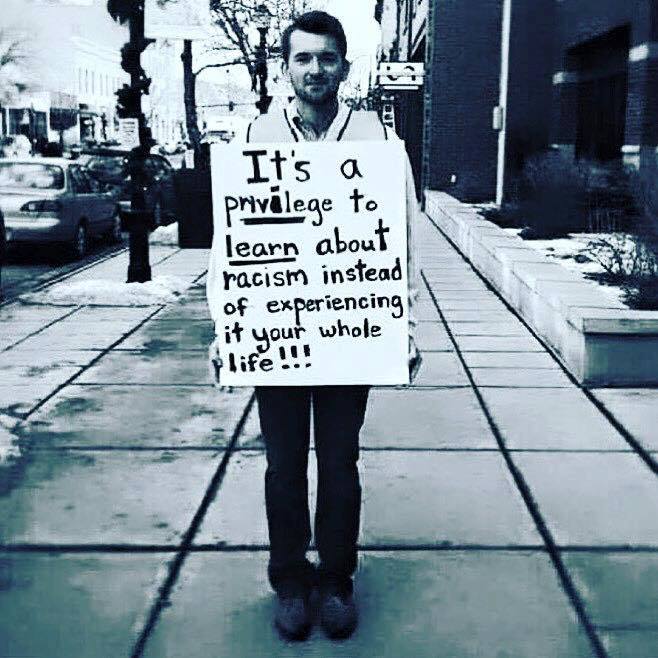 Allyship
An ally is defined as "a person, group, or nation associated or united with another in a common purpose." By definition, allyship is two sided, and requires consent and buy-in. It's a partnership rather than an assistant or savior.
Dr. Natalie Perry emphasized that aspiring allies "need to check in with the person you are trying to be an ally for to make sure you aren't talking over someone or whitesplaining." She believes that "good allyship starts with having a personal relationship and understanding that you don't know everything."
Elizabeth Baldwin noted that she prefers to "use the word accomplice rather than ally because it emphasizes that you are in in together, but if you are in it and thinking 'I have to help people,' then you aren't being an ally." She also stressed that "you're gonna mess up and that's ok, but be willing to lean into it" and hold yourself accountable.
Action Steps to Be Better Allies:
Attendees broke out into groups and shared concrete actions steps white folks can take to be better allies. We talked about sharing your power, calling out racism, pushing through uncomfortable situations, and putting your privilege on the line. Here are some more possible action steps:
Read more books and listen to more podcasts produced by people of color
Connect, develop authentic relationships, organize programming, and build community around racial justice 
Talk to family members and other white people about racism
For those involved in hiring at their organizations, focus on inclusion and diversity
Educate yourself about racism so that people of color do not have to
Remember the difference between charity and social justice (crumbs from the table vs. a seat at the table)
Ensure non-white voices are included, especially in conversations that directly impact them
Put your money where your mouth is- figuratively, and literally by donating time and money to social justice causes
Focus on listening, specifically listening to learn rather than listening just to respond
And Our Speakers Have a Few Suggestions:
Silence helps perpetuate privilege and racial injustice.
Thank you for helping us end the silence.
Do you like this post?